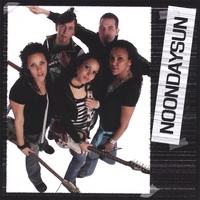 Some people may think MySpace is a big waste of time, and it can be. But then there are times when you're searching through the sludge of music pages that you find a band that really sparkles. And NoonDaySun is one of those sparkling bands. They've even got a song title to prove it.
Their lyrics are reminiscent of Switchfoot's earlier releases, where they present soul searching concepts that make you think alongside tantalizing heartfelt vocals. They're on an independent record label now, but if they keep on cultivating their sound and explore songs with more social justice themes in a few years time they could be on a major label or make a major label out of their current one.
You can check out a brief write-up I did on them in the current issue of the
Christian Rock Report
on page 6 titled "NoonDay Sun Heats Up". And stop by their
MySpace
page and say "Hi!" or whatever it is you would say to a band on their comment section.