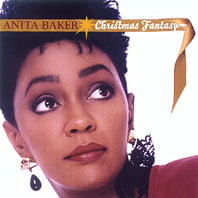 My Mom got me hooked onto Anita Baker when I was in middle school. We used to listen to "Body and Soul" in the car (back when CDs were still new to me) and sing aloud to Baker's soulful lyrics of how a man should love us mind, body and soul. If you're not familar with Baker, then let me tell you she's not one of those cardboard box Britney Spears singers who rely on studio touch-ups to sound descent. Baker's alluring voice goes down smooth like a strawberry banana smoothie from Surf City Squeeze.
Middle school came and went, I became a Christian in the 8th grade and started to devour music from the Christian music scene as Baker drifted away from the R&B spotlight. Life went on and there's always a fresh star to replace the old ones, but anyone who knows anything about quality music knows that Baker is one of the best. Once a Baker fan, always a Baker fan even if you don't listen to her music anymore.
This morning as I was watching
The Today Show
and guess who was doing a performance? None other than Ms. Anita Baker herself and by the end of her new Christmas song set I was left wondering why I had ever stopped listening to her music in the first place. Even though she looks a little older Baker's still got it after all these years! She could still blow most of these singers away with her powerful jazzy vocals that are reminiscent to the likes of the female jazz greats of days yonder.
More often then I'd like to admit I hear people slamming Christian music for its lackluster artists and unoriginal music styles. Some people, Christian and secular alike, claim that Christian music artists are subpar to the rest. I politely disagree with their arguments because I know of some really good artists. On the other hand, I agree with them because for some reason beyond me Christian radio tends to showcase the cookie-cutter music artists. The majority of radio stations cater to the Adult Contemporary style and it's hard to find stations with a constant eclectic blend. The more daring artists get shunned while the Steven Curtis Chapmans' get Dove Award after Dove Award. I'm not saying that Steven Curtis Chapman's music is bad (he has a couple songs to my liking) but there's more to the Christian music scene than Casting Crowns.
The front-runner for the soulful vocalist in the Christian music scene is Stacie Orrico. She's got the range, the power house vocals and when she does one of her trademark vocal runs it's a real thing of beauty to hear at a live concert. I've followed her music since she hit the Christian music scene with "Don't Look at Me" and I've stuck with her throughout her career and watched her music mature as she made her transition to Virgin Records for mainstream appeal. I highly anticipate her forthcoming album
The Beautiful Awakening
slated for a January 2007 release. The video for "I'm Not Missing You" transforms Orrico into that female jazz great singing about love lost and how to move pass the heartbreak because she's "got life to do." What's refreshing about Orrico is that her songs are chalked full of meaning and openly express the joys and sorrows of life while pointing to the hope found in Christ, all done with the superb sound of a talented singer. If Stacie Orrico continues to blossom the way she has, she could have a long and fruitful career in the music industry because her voice is the real deal. It would be a delight to see her do a more jazzy album in the vein of Anita Baker one day.
I hope in years to come when I have my own children that they'll remember singing Orrico's songs in the car with me and ten years later they've be able to say "Stacie Orrico's still got it!"